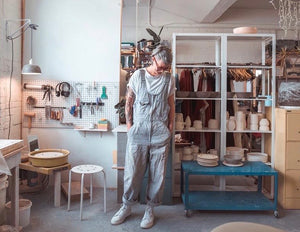 Designer Series: Mérida Anderson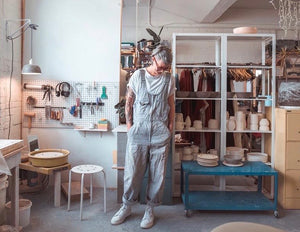 As a part of our designer series, we asked Montreal-based Ceramicist Mérida Anderson for insights on tactile creativity. In addition to ceramics, Mérida's talents branch into food, jewelry design and fashion. 
I. How would you describe what you do?
I am a céramist with a focus mostly on the wheel creating minimally designed  pieces for the home as well as vessels, objects and jewellery. 
(Image via @merida_yyy)
II. What inspired to you get into ceramics?
My grandparents were both potters and I have always had a love for ceramics but I jumped in when I moved to New York and ended up working at a ceramics studio there, eventually learning by work trade. 
III. What inspires your work?
Architecture, colour, texture, shape and the design world give me my most inspiration.
(Image via yyycollection.com)
IV.  How have you been keeping busy during quarantine? 
I have been getting into making tiny food sculptures out of polymer clay while at home. I was also gingered a mini wheel and made a lot of tiny tiny ceramics (@tiny_snx)!  As well I work with food (@vegansecretsupper) and am in the midst of writing a second cookbook so being at home gave me some good time to get that ball rolling. 

(Image via @tiny_snx)
V.  Something positive that you will take with you post-quarantine? 
Learning how to slow down. I don't spend much time at home I am always at the studio and it felt really nice to be able to relax and ease into being at home and not feeling guilt or pressure to create.
Mérida's 5 Favs:
1. Favourite Colour: Oxidized Copper
2. Go to cocktail to order when you're out: Whiskey with a dash of bitters
3. A song you have on repeat: Baby - Ariel Pinks Haunted Graffiti
4. A meme that always makes you laugh: Anything with tiny animals 
We love Mérida's playful and unique approach to their work. We carry Mérida's stunning Step Candle Holders and Cermamic Pedestal Vases. They also have a rotating selection of their work on YYY Ceramic's Online Shop. 
(Cover Image via @merida_yyy)