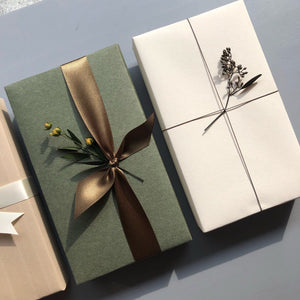 Gift Wrapping, Minimally.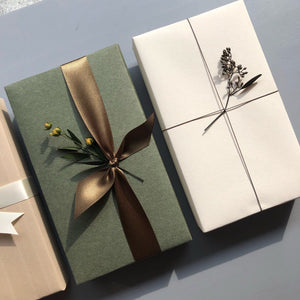 We wanted to pop onto the blog to chat about the final step in gift giving: wrapping!
We love how the holidays brings everyone together and creates time for special moments to our everyday lives. However, this time of year is also always filled with so much: decorating the house, selecting thoughtful gifts, holiday parties at work and with friends... that we can loose steam by the time we are ready to make that final push of wrapping that special gift. 
We put together a few of our favourite tips to make your holiday wrapping beautiful, simple and easy!
1) Christmas wrapping, doesn't have to be Christmas wrapping.
Step away from the glittery Santas!!! We love using simple craft paper: white, matte black or natural craft all look stunning, are very inexpensive, and your leftover paper can be used for gifts throughout the year.
Image via Pinterest
2) Less is more!
Simple craft twine or thin fabric ribbon is more than you need. Wrap it around the gift a few times to give it a unique, crafted look.
For a more sophisticated option, layer thicker satin or velvet ribbon over your craft paper to elevate your gift.
Image via Pinterest 
3) Greenery.
This may be the fussiest tip of them all, but we promise -- the extra mile is worth it! Stop by your local florist and pick up a few stems of your favourite greens to top off your gifts with -- not every gift needs a pieces of greenery if you are giving multiple items! Cedar, eucalyptus, lavender, and red berry branches are a few of our favourites, but you really can pick any stem. 
4) Use eco-friendly materials.
Using recyclable materials, buying paper that can be used beyond the holidays, and adorning your gifts with biodegradable items like greenery or twine is key in reducing our impact over the holidays.
One of our favourite tricks is to save and re-use paper or ribbon from throughout the year. For example, we have kept our Standing Calendar pages to use in lieu of craft paper!
Image via Home Oh My
We hope our tips give you a little holiday inspiration to push you through this last stage of holiday prep! 
Wishing you and your loved ones a very Happy Holidays! 
Cover image via Pinterest